Currency settings
Bastián (CEO)
on 08-03-2022
You can now use your currency of choice inside Wildmetrics. You can do that by visiting your general settings.
If you have Stripe connected with Wildmetrics, your default currency will be taken from Stripe. Let's say the main currency of your Stripe is Euro. In this case, the default currency in Wildmetrics would also be Euro.
But if you wanted to, you could change your currency inside Wildmetrics from Euro to USD and Wildmetrics will convert all your Euro transactions into USD using the currency conversion of today.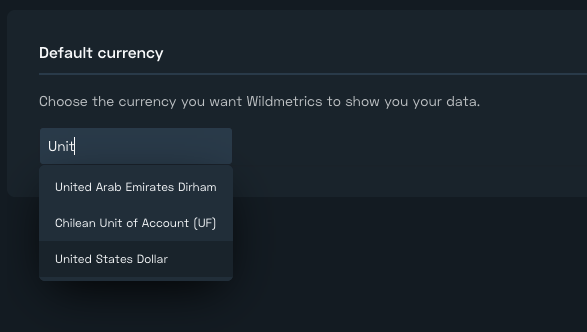 If you don't have a Stripe account, you will also soon be able to track revenue by just using ActiveCampaign. We are actively developing this feature right now, and we hope to release it in the next weeks.
Once we release revenue tracking for ActiveCampaign, you will be able to set your currency as well here in currency settings.